Joining in Lynette's blog party... I apologize for the double posts but I have something really really exciting I want to post about tomorrow (hint: it's white and sleek and new) so I'm linking up now.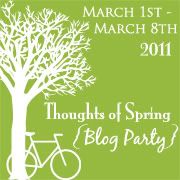 How would people describe your personality? (If they could only use ONE word.) Are they right?
Ahhh, I don't know! Probably... um... wow, I really have no idea. This is off to a bad start...
What celebrity/celebrities would create a "Star-Struck" feeling if you saw them in real life?
I don't really get "star-struck" so much, but I'd love to meet Gwyneth Paltrow and Gillian Anderson. Okay, I might gush a little, but I don't think I'd go camera-phone mental.
Who is your favorite blogger? Why?
I really love reading
Tavi's blog
. She's my age and her point of view is so fresh. And her fashion? Ah-mazing.
What is your comfort food/drink?
Probably hot chocolate, haha. That's pretty boring...
Be brave – tell us something very random and weird about yourself.
I really, really despise the song "Bottoms Up". Nikki Minaj is so obnoxious. Everyone looks at me like I'm crazy when I say this, but it's true.
Do you have a strong desire to do something you've never done? What is it?
Hah, oh yes! So many things... like skydiving, for example. Or backpacking around Europe. Living in Russia for a while. The list goes on.
Movies: Action, Drama, Romantic Comedy, Documentary, Comedy? What are your favorite genres?
I actually really love horror movies, especially the psychological ones.. Nobody else in my family does, though, so I usually compromise on romantic comedies.
Books: Fiction, Non-Fiction, Romance, Biographies, True Stories, Self-Help, Devotional/Study? What are your favorite types of reading material?
Probably realistic fiction...
Music: Funk, Rock, Country, Jazz, Classical, Film Score, Blues, Classic Rock, Crooner, Alternative, Heavy Metal, Techno? What are your favorite types?
Pop, pop/rock, alternative, dance... pretty much anything with a good beat. (Gasp. I know. Aren't I so terribly mainstream?)
If you inherited a million dollars, what is the first thing you would do with your money?
Start a college fund. Right now I have approximately four hundred dollars. Scholarship, please...
Name one weakness of yours (confession is good for the soul).
I have the bad habit of eating every single thing on my plate, whether I'm hungry or not. (I blame this on the fact that when I was younger my parents were very strict about eating
all your dinner.
)
If you could live anywhere at all (and take all your loved ones with you), where would you go?
Ireland!
Strange Talent? Can you juggle basketballs, put your legs behind your head or perform some other strange feat?
I can cross one eye but not the other. It took me years to figure out how to do it and at age ten I finally had it down.
What's something you consider yourself to be good at? (Don't worry, it's not bragging, it's acknowledging a God given gift).
I consider myself to be a good actor... *winces because I still feel like it's bragging*
What is one of your favorite things to catch a whiff of?
Coffee... mmm.
When you leave a social gathering, do you wish: You would have talked more or You would have talked less?
Hmm, probably more. Though I already talk a lot... other people probably wish I'd talk less!
If money wasn't a factor, what stores would you shop in?
Man, I'd go to Gucchi, Prada, Coach, definitely Anthropoligie, BCBG, I'd buy every single style of jeans from 7 For All Mankind (I love my one pair!), Monki... *sigh* While I'm dreaming, I'd like to be editor of Vogue too, please...
What is your greatest fear or strange phobia?
I despise lakes, ponds, rivers, and fresh water. It takes a lot of willpower to even get me into
Sebago Lake
.
What is your greatest accomplishment?
*goes quiet* I... I really don't know...
What are your favorite animals?
I really like sparrows and other birds like sparrows. And, of course, I adore horses too.
Are you a hopeless romantic?
Not really. I kind of wish I was, but I'm too realistic.
What movie or book character can you most relate to?
I can identify with Katniss from
the Hunger Games
, and somewhat with Britney from
Glee
. I can be pretty blonde sometimes. (My "dumb girl" voice is pretty good. If I get enough interest I'll make a little video so you can see just how blonde I can be...)