So I've been working on this book about a girl whose friend dies and comes back to haunt her. It's my first stab at a full-length horror story, and it's turning out pretty well. But a couple days ago I decided it would also be interesting as a short screenplay.
Emily
agreed to be in it initially, then got camera-shy and decided against it. So it went from being about two friends to being about two twins. Watch the trailer and tell me what you think... if you can't tell, the straight-haired me (Maia) is alive, and the curly-haired me (Alma) is dead.
We had about fifteen minutes or so (of about thirty overall) filmed, but we just didn't have the equipment to suitably make it conceivable that there were two people when there was really just one. So here's the first five minutes — after this it began to fail, but this bit is okay-ish. I think I need a legit video camera, not just a Vado, before I become a serious indie filmmaker, haha. And some friends who are more willing to act. Besides, you know... just me.
So we gave up on that and started making pancakes instead. Em has this awesome vinyl record player, and Madonna's "Like a Virgin" record, so we put it on and felt very vintage and awesome. They were good pancakes, too.
Inexplicably, there was a baby snail on my strawberry. It was kind of confusing.
And we swung, because swinging is fun. So is, as Emily puts it, "
gif
ing."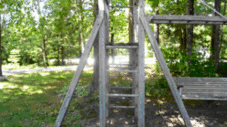 Pretty sure this is an awesome gif. If it works. Which it might not. Poll?
And watched SNL while writing blog posts. Very good day.
pea ess: We straightened my hair for Maia's role (to differentiate between the two) and it's LONG. I mean REALLY long. I feel like Rapunzel. I had no idea my hair was really this long, since most of the time it's curly. I haven't straightened it in months. I was kind of in awe of my own follicles.
Getting a cut on Tuesday, but I'm going to keep the length and just get my layers back. The top ones are supposed to be about two inches long... right now they've grown to about fourteen inches. Yeah. It's bad. Pictures tomorrow.
RESPONSE TO COMMENTS
1- I know, I do look like I'm smiling when I cry. It's partially the angle and partially my face. I promise, I had legit tears and everything.
2- I use iMovie '11 and love it. :)