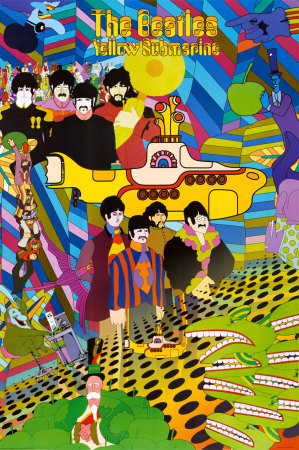 DRUGS. They mess with your head.
Consider this a sister story to How I Got Nommed By A Snake.
First, a bit of family history. My mother was an art student and painter, and did things like going to nuclear test sites and eating tofu in protest, and chaining herself to cattle grates (don't even ask about that one, I'm still confused), and herding sheep for
Pauline Whitesinger
.
My father has (at various points in his life) been in more rock bands than I can count, travelled around after the Grateful Dead in a hippie bus making tie-dyed t-shirts and friendship bracelets, kept various reptiles in his bedroom, and (at the time of meeting my mother) had hair down to his waist.
Yes. That is my family. Yay, mom and dad.
Well, when I was a small child, I was introduced to
Yellow Submarine
. If you are not familiar with this movie, is is by and about the Beatles and is the trippiest thing known to man. Seriously. There should be a disclaimer at the beginning saying "WARNING: This movie was made on LSD. Proceed with caution. Not advisable for small children, epileptics, or people with heart conditions, because it WILL give you seizures."
Naturally, I loved it.
It was my favorite movie. I watched it several times a week. This movie was possibly the most influential thing in my young life.
Want a clip? Want to see JUST HOW WEIRD this movie is? Here's a few for your enjoyment:
Or this one. This is a nice collection of clips from the movie.
I can only imagine what my parents were thinking when they introduced me to such an LSD-laden experience... Probably that it would make me an interesting person and keep me away from Barbie and Hannah Montana (they succeeded with Hannah Montana, but I did still have Barbies. They died interesting deaths... I was a strange child.)
in case you can't read my handwriting: on one side, it reads "what my parents probably expected would happen" and has the legend "yay happy hippy nature time". The other side says "what really happened" with the legend "vaguely hippy internet monster".
I showed a clip to my friend Anne and she looked at me like I was nuts. "Yeah, I grew up watching Disney Channel," she said. "This is, like, scarier than movies I watch now."
To date I have only ever met one other peson my age who watched
Yellow Submarine
as a child, and that is the wonderful
Emily
.
Now let me explain my thesis that
Yellow Submarine
shapes your personality.
I always thought the movie had made me weird. I knew it. But then I met Em. We have the same dress sense, we both like photography and fashion and vintage keys, we like the same music. We're so alike it's a bit scary (except that she doesn't like tomatoes, which I think is insane).
And then, a few weeks ago, I found out that she watched
Yellow Submarine
when she was young.
I uphold the claim that this movie will make you crazy, and strange, yet completely awesome if watched weekly at a young age.
Sidenote: Em just commented saying "

you may be my twin. just a thought. :)"

and rdfgkukjfs! I hadn't even thought of that. We could SO be twins. Separated at age, like, seven-ish and brainwashed so we wouldn't remember each other. HOLY CHEESECAKE, you guys! I mean, come on. We look alike. Sorta. Not really. But Shhhh! Stop crushing my dreams.
not the most flattering pic of EITHER of us, but usually one of us is holding the camera so group shots are tricky.
I'm curious if any of you watched this lovechild of music and drugs as children. Pray tell if you did, and if so if it made you
a raving lunatic
a stunning person like me.
PS: Ke$ha references Yellow Submarine several times in the vid for Your Love is My Drug. I love her. And this video, between the trippy Beatles animation and the animals and all the feathers she's wearing, pretty much kills me with awesomeness.
PPS: BLOGGER WANTS TO STEAL OUR "EDIT HTML" BUTTON! Please sign this petition to prevent it.