Dodge Morgan passed away this morning.
My grandmother and grandfather (maternal) divorced when I was about seven or eight. My grandmother met Dodge some years ago and had been living with him on his private island for a several years now.
He had just proposed to her. They were going to have a small wedding in just a few weeks.
Dodge went into surgery for colon cancer about a week and a half ago. The operation seemed to have gone fine, but there was a complication. He was taken off life support this morning.
Dodge was the first American to sail single-handedly around the world. He was on the covers of GQ and Sports Illustrated (among others) and received a letter from the President at the time of his record-breaking accomplishment.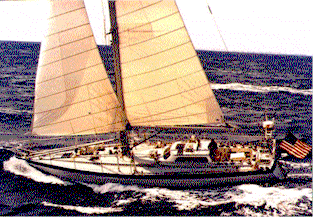 According to my mother, those last few years with Dodge were the happiest that she's ever seen my grandmother. Ever. He meant so much to her...
If you pray, please include Dodge and my grandmother in your prayers.
Thank you.
Rest in peace.